Promostyl Weekly Trends Youth
Promostyl Weekly Trends Youth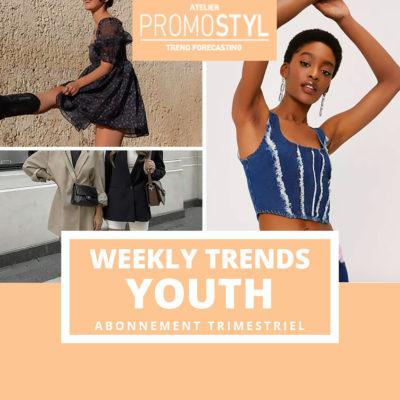 390,00 € + VAT
475,80 € (VAT included)
475.80
Product details : Weekly newsletter in 2 parts (analysis and creation) sent every Monday.
The price is for a 3 months subscription.
Fashion lives at the frantic pace of permanent renewal; in fact, the binary rhythm of fashion has been overturned by the notion of constantly offering new products and almost continuous "capsule" collections.
In this race to the ephemeral, every week our stylists analyse social networks (Facebook, Instagram and TikTok). Based on these analyses, they design the Weekly Trends Youth which deciphers for you the novelties to propose to your customers aged 16 to 22.
The WEEKLY TRENDS YOUTH presents :
1) Trend analysis of the week
There is a strong trend among 16-22 year olds this week.
2) Summary and trendy colours of the week
It summarises this trend in a few words and gives the trend colours and shapes that we have analysed.
3) The document to be produced
After analysis and synthesis of the trend of the week, PROMOSTYL presents you the unique set to produce in phase with the Youth current events and gives the 4 strong points of the exclusive creation as well as the detail of a complete silhouette to guide you in your creations.
4) Its technical design
PROMOSTYL presents a complete downloadable technical drawing and offers a key fabric to use.
The silhouette and its technical drawing can be downloaded in Illustrator and Photoshop format.
This product is free of shipping costs. To find out more, see the
FAQ
.
If a product is not available at the moment, there may be delays in the delivery.