Next Look Colour Usage AW 23-24
Next Look Colour Usage AW 23-24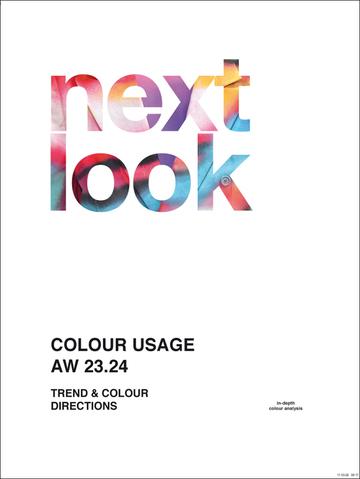 Season: F/W 2023-24
Next Look Colour Usage AW 23-24
Paper Copy + Digital Version - Online Access
Based on the themes of Menswear and Womenswear Styling titles the most important color ranges of the season are represented in compact, well-arranged and thorough form on 156 pages.

Each of the 18 themes contains 8-10 single colours. These are divided into different harmonies and are completed by numerous suggestions on accentuations and indications on the usage for different product categories.

At the same time, these are adjusted to the material and styling highlights of the international catwalk shows. Besides, corresponding to each theme there are displayed 3-4 must have colours which are illustrated by a key look, respectively by a styling recommendation.
If a product is not available at the moment, there may be delays in the delivery.