Next Look Women Trend Styles & Colour AW 23-24
Next Look Women Trend Styles & Colour AW 23-24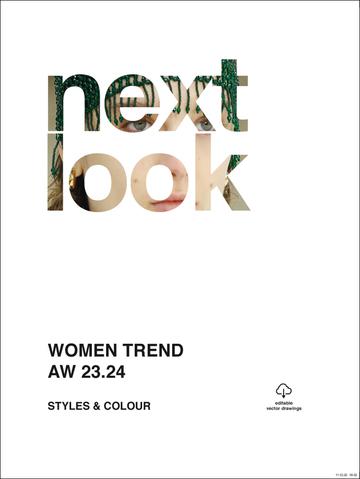 Season: F/W 2023-24

Next Look Women Trend AW 23-24 Styles & Colour
Paper Copy + Digital Version - Online Access
6 market-driven trend themes including inspiration, colours, colour combinations, material directions, styling, accessories, details and many model sketches. This combination of trade journal and styling trend book for women's fashion professionals provides a selective and future-oriented analysis of all the leading womenswear designer shows from the international fashion capitals and their consolidating in six market-driven and at the same time innovative themes. Each of the themes is presented in a complex, descriptive, inspirational way and by means of immediately usable styling sketches: inspirational photos, trend- setting styles from the designer collections, colour themes and ideas for colour combinations, typical fabric and material optics as well as shoes, bags, belts and other accessories complemented by an extensive pool of new design ideas, outfit figurines and drafts for coats, jackets, dresses, blouses, trousers, shirts, knitwear, accessories and beauty.
If a product is not available at the moment, there may be delays in the delivery.