Promostyl Women A/W 24-25
Promostyl Women A/W 24-25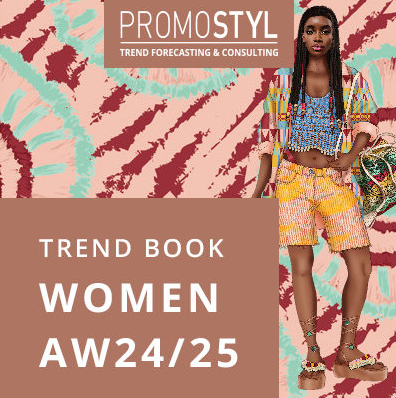 1.950,00 € + VAT
2.379,00 € (VAT included)
2.379.00
Season: F/W 2024-25

Promostyl Women AW 24.25 Trendbook

This trend book Promostyl Women AW 24/25 is a comprehensive guide to the latest trends, trends, colors, textiles and more in women's fashion for the upcoming Autumn/Winter 24/25 season. The trend book has been created by a team of trend experts who have analyzed the current cultural and societal changes and their influence on women's fashion. The trend book contains a number of themes that capture the mood of the season, and the content is also based on Carl Jung's 12 universal archetypes. Each theme includes a variety of colors, patterns, fabrics, and styles that reflect the season's trends in women's fashion. The trend book is an invaluable resource for fashion designers, buyers, retailers, and anyone interested in staying ahead of the latest trends in women's fashion. With its expert analysis, inspiring images, and detailed descriptions, the book offers a comprehensive and insightful guide to the upcoming AW 24/25 season's fashion trends.
If a product is not available at the moment, there may be delays in the delivery.