IDEA BOOK vol.10 - Liberty Lace
IDEA BOOK vol.10 - Liberty Lace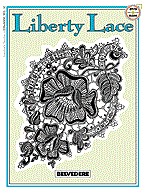 Publisher: Belvederebooks
Liberty Lace
Lace Designs & Motifs • Vienna Style
Ideabook + CD or DVD - Vol. 10

88 pages - Paperback
Published 2004 - 1st edition
Booksize 24 x 32 cm - 9.5" x 12.6"
182 lace motifs and variations, all in b/w. Motifs from an original collection of Liberty style designs of the Vienna Jugendstil period. Digital support on free DVD-ROM (TIFF/JPEG+EPS Files - Vectorgraphic). All designs are Copyright-Free

A visual design manual of the "Wiener Weißstickereien" (Vienna Lace). All motifs are in Liberty style (Jugendstil of the Vienna period). Many floral and graphic designs, borders, symbols, ideas for fashion and applications. Useful overlook plates in reduced format for easy research. The new version of the book offers now all designs digitized on the included DVD-ROM (TIFF / JPEG + EPS Files - Vectorgraphic). All designs are copyright-free and ready-to-use.



* If a product is not available at the moment, there may be delays in the delivery.