IDEA BOOK Vol.19 - Color Mix 1
IDEA BOOK Vol.19 - Color Mix 1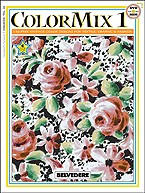 Publisher: Belvederebooks
Color Mix 1
150 Vintage Color Designs - Florals - Graphics - Ethnics - Textures
Ideabook + CD or DVD - Vol. 19

104 pages - Paperback
Published 2010 - 1st edition
Booksize 24 x 32 cm - 9.5" x 12.6"
A Collection of 150 Color Motifs. Designs of various origins: flowers, ethnics, graphics, geometrics, textures, paisleys, art-deco, checks, stripes, skins + many others. All copyright-free, incl. free-DVD-ROM / WIN+MAC. JPEG + EPS/AI Files, Vectorgraphic

The designs of this Idea Book are a collection of colorful motifs from several periods and different styles. Vintage, Art Deco, Ethnics, Folks, Batik, Graphics, Geometrics, Florals, Checks, Stripes, Borders, Paisleys, Skins, Textures, Ornamentals, Decors are combined in a unique design portfolio. The book includes single patterns, all over designs and already arranged compositions as well as single elements. All motifs are available - printed in a book version & also digital - on a free DVD-ROM (in JPEG Format & A.I. Files - EPS (Vectorgraphic). All the motifs are Copyright-Free and immedeately ready-to-use.



* If a product is not available at the moment, there may be delays in the delivery.